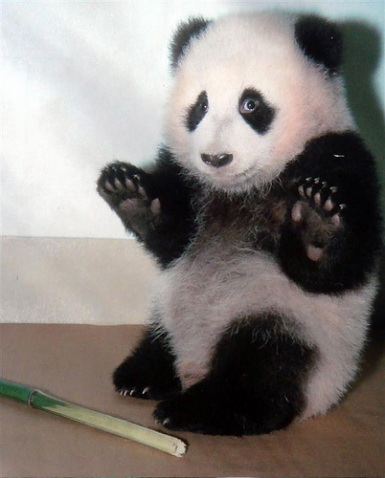 (I had a sock puppet account on a website named "Pandamonium". He was a wacky, off-beat character which often quoted Made For TV adverts and spoke in non sequiturs. For some reason one night I, or rather Panda, started writing a B-movie screenplay. This is the result.)
Pandamonium: A Love Story
by
Pandamoniun
Scene 1
Opening scene: Paris. Noon. Our hero, the stunning and attractive Panda enters the frame. Panda spots an empty seat next to a diner at a small cafe.
Panda sits.
PANDA
Hello. I would like to sit here for I have dreamed of you. You and me together.
DINER
No. Please leave.
PANDA
But your beauty is all I can muster. Please take this chopstick.
DINER
No.
PANDA
What will it take for me to win you. My loins quiver like a shopping cart with a bad wheel. You are the cheese on my cracker.
DINER
Ok. Please sit down on your ass right next to me. My English is not good. I am from another land of adventure and excitement.
PANDA
Will you please take this chopstick. It is a token of your stunningness and wood.
DINER
Yes. I will take that chopstick.
Panda hands the chopstick. Their eyes meet for the first time
PANDA
Your eyes are like apples in the sun of my heart.
DINER
No. Please leave for I am fickle.
PANDA
For now, I shall take your leave. May I first have your home address so I may call on you?
DINER
Yes. I live in that building there.
PANDA
Can we meet for dinner this evening?
DINER
No. I never wish to have eyes on you again. Please do not come to my home.
– END SCENE 1
Scene 2
Paris. Outside of a building. Panda is standing in the rain. A car stops next to Panda and Lou Diamond Phillips gets out.
LOU DIAMOND PHILLIPS
We meet again Panda. Or should I say The Masked Panda!
PANDA
I do not have a mask. I do not know who you mean?
LOU DIAMOND PHILLIPS
Give it a rest Panda. We all know it was you who took all the gold from Fort Knox.
PANDA
And what if I did?
LOU DIAMOND PHILLIPS
I want my cut or I will turn you over to the police.
PANDA
I see you have me Lou Diamond Phillips. I shall arrange for gold to be delivered to your secret hide out. Please leave me be for my heart is bursting with love for someone I met today at a cafe.
LOU DIAMOND PHILLIPS
Someone who lives in this building?
PANDA
Yes.
LOU DIAMOND PHILLIPS
The only one who lives here is my cousin. You are in love with my cousin? I shall help you Panda because my cousin is nice and you just gave me lots of gold. Also the mob is after you so we shall team up to fight them off.
PANDA
Thank you Lou Diamond Phillips. You are a true friend. Please take this roll of tape. It is clear like our friendship and contains many good things.
LOU DIAMOND PHILLIPS
Panda, you have given me quite enough already. Let us now go to the bar because my cousin is not home and has gone on vacation to Egypt and London and Rome and Spain. We shall drink and then go find my cousin so you two shall be married.
PANDA
Yes. Let us go to the bar.
Panda gets in Lou Diamond Phillips' car and they drive off to the bar.
— END SCENE 2
Scene 3
Inside the bar. Panda and Lou Diamond Phillips are sitting at a table.
PANDA
Please let me buy you a drink Lou Diamond Phillips.
LOU DIAMOND PHILLIPS
Thank you my good friend Panda. You are the best in the world because you are attractive, rich, and full of mystery.
PANDA
(shouts)
Bar keep! I would like to buy drinks now!
BARTENDER
(played by Matt Damon)
Your money is no good here. The boss says.
PANDA
Who is your boss?
BARTENDER
You will find out soon enough.
There is a thunk sound and Panda's vision goes black
There is another thunk sound and Lou Diamond Phillips vision goes black
Panda awakes in a small dark room with arms and legs strapped to a chair.
PANDA
Hello?
VOICE OVER THE SPEAKER
We've been expecting you Panda.
PANDA
Who has hit me over the head? Show yourself!
A monitor on the wall turns on. There is a dark figure on the screen. It is the boss.
THE BOSS
I can assure you I did not. But I ordered it.
PANDA
What do you want from me?
THE BOSS
We want you to steal a virus from the CIA so we can take over the world.
PANDA
Why me? I'm just a regular panda?
THE BOSS
A regular Panda with a MASK!
PANDA
I see you have me figured out. What have you done with Lou Diamond Phillips?
THE BOSS
He is safe, for now. If you don't steal the virus for us he won't be so safe. We will kill him.
PANDA
You are evil!
THE BOSS
I'm a business man. RELEASE HIM!
The doors of the cell open and the straps come unbuckled.
PANDA
I will get you your virus and save my friend Lou Diamond Phillips. Then I will come for you. I'll return!
— END SCENE 3
Scene 4
Outside a warehouse on the docks. Panda pulls out a hidden device and presses a few buttons. A remote controlled jet helicopter lands on the dock. Panda gets in. Panda picks up the radio microphone as the helicopter takes off.
PANDA
This is Agent 3RM to headquarters. I have made communication with the mob boss. My cover has not been broken. I am flying to headquarters to pick up some new spy gizmos.
VOICE ON THE RADIO
Roger Agent 3RM. Good to hear from you. See you when you get here.
PANDA
Roger Headquarters. I will see you when I get there to headquarters.
The helicopter lands at headquarters. Panda gets out and walks to a big vault door.
VAULT DOOR
Identify or be lasered!
PANDA
Agent 3RM.
VAULT DOOR
Voice print identified as Agent 3RM. Welcome back Agent 3RM.
PANDA
Thank you vault door.
There is a burst of steam as the vault door opens. Panda goes inside and walks down a long white hallway. Panda opens the door labeled "Top Secret Lab".
AGENT 11
Agent 3RM! I see you stopped the merc war in South America and saved the President without a scratch.
PANDA
All in a days work Agent 11. Show me all your new spy devices now.
AGENT 11
Yes. Of course. Please walk here.
PANDA
I have walked over to the large table of gizmos. I see you have been busy making spy devices.
AGENT 11
Yes. I have been busy making spy devices for all the top secret agents. This is a watch.
PANDA
Yes. That is a watch.
AGENT 11
But it is also a gun that shoots deadly darts.
PANDA
I would like that watch.
AGENT 11
Yes. Take the watch for your next secret mission.
Panda leaves the lab and continues down the hall to Agent 1's office.
PANDA
Hello Agent 1.
AGENT 1
PANDA! Are you crazy coming here? Your crazy antics will be the downfall of our top secret spy office!
PANDA
Agent 1, I'm on to something big. I just need a few more days to crack the case.
AGENT 1
OK Panda. You are on your own with this one. Don't let me down.
PANDA
I won't let you down. I will fly to New York to save my friend Lou Diamond Phillips.
AGENT 1
Lou Diamond Phillips?? He is a top CIA spy!
PANDA
(winks)
Yes, he is.
— END SCENE 4
(to be continued)