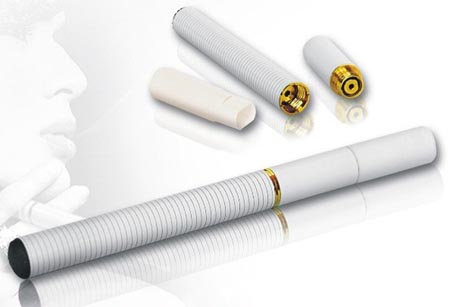 Some time ago I heard of a new device called the e-cigarette. The device is basically a battery, an atomizer, a cartridge containing a vapourizer liquid (which can contain nicotine and flavours) and a mouthpiece.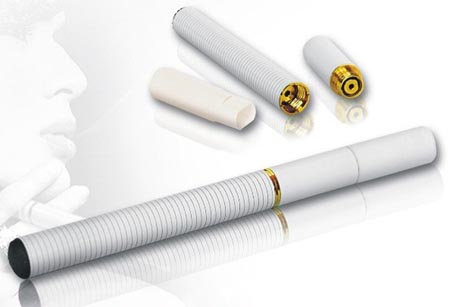 The e-cigarette was invented by a fellow named Hon Lik – a 2-3 pack a day smoker. According to a April 25, 2009 article in the LA Times, the idea came to him in 2000 in a dream. He said in the dream he was coughing and wheezing and imagined he was drowning. The waters around him lifted into a fog.
Eureka! Fog. Fog machines. E-cigarette! (at least that how I assumed he made the connection). By 2003 Hon Lik  had the patent on the device.  (An interesting follow-up, Mr Lik switched to e-cigarettes and later quit using nicotine all together.)
The vapourizer liquid is commonly propylene glycol, which is considered safe for humans. The product has been used as a transport in pharmaceuticals and as a food additive for years. A human would need to consume several liters of the stuff before showing any ill affects.
A found a summary report of a laboratory experiment done in 1947 with propylene glycol. The test animals lived in a propylene glycol rich environment for 12-18 months. The report states;
Examination at autopsy likewise failed to reveal any differences between the animals kept in glycolized air and those living in the ordinary room atmosphere. Extensive histological study of the lungs was made to ascertain whether the glycol had produced any generalized or local irritation. None was found. The kidneys, liver, spleen and bone marrow also were normal.

The results of these experiments in conjunction with the absence of any observed ill effects in patients exposed to both triethylene glycol and propylene glycol vapors for months at a time, provide assurance that air containing these vapors in amounts up to the saturation point is completely harmless.
That sounds pretty good to me. Much better than living in a tobacco smoke rich environment for months at a time. I'm sure it smells better too (of course, monkeys sort of stink and like to throw poo, so that might be a toss up).
It is my understanding, all things considered, nicotine is not that much worse for you than caffeine. The really bad part about nicotine is the transport – tobacco smoke filled with crap. It is the tobacco smoking I wish to stop doing – not so much the nicotine. I like nicotine. My brain likes nicotine. I don't want to stop smoking because of this. This is what made me want to consider the e-cigarette as an option.
The e-cigarette concept appeals to me for several reasons. It will not have the health factors in tobacco smoking, it won't have the smell, and dammit, this is the 21st century. I never got my flying car, I don't have a job making Space Sprockets, and my dog is no closer to saying "ruh-row" than I am to having a vacation on the moon. I demand my better living through technology!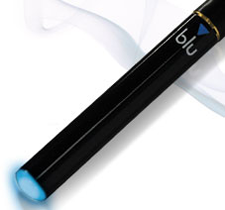 The first e-cigarette I ran across was "blu". It is a nicely marketed device with a fairly low buy-in cost (well below the cost of a carton of cigarettes in my area). I was very close to ordering a starter kit but learned there can be some problems getting these across the Canadian border. It is my understanding e-cigarettes devices are not illegal in Canada, only selling "ready to use" cartridges containing nicotine is the illegal part – or something like that.
Drat. Hard to get products.
I passed on the idea and went back to regular cigarettes.
Last week I remembered about the electronic gizmos and decided to give them another look. I dug around on the Internet and discovered a site called e-cigarette-forum.com. Wow. Talk about information overload! 7,700 active members and over a million posts on the subject of e-cigarettes and "vaping".
Aside: Vaping is the term used by users of e-cigarettes instead of calling it "smoking". You are vapourizing the liquid – hence vaping. This is NOT to be confused with "vapping" which is slang for female masturbation.
I dove into e-cigarette-forum.com head first and was instantly overwhelmed. There are ton of devices, slang, and a plethora of terms – things I felt I had to learn before I could make an educated decision if I wanted to get involved in e-cigarettes.  Further that, what device should I order? Every other person on the forum is saying one device is better than the other. Past that, could I order something in Canada with nicotine?
As it turns out we in Canada can easily get the hardware from companies located in Canada. We can order branded, ready to use devices (much like the Blu e-cigarette) or more generic devices. We can order nicotine free cartridges (why?) or we can order empty cartridges and fill them at home with e-juice containing nicotine. We can order nicotine enriched e-juice locally.
Yes! I'm going to do it! I have to try this thing.
Now. Which device?
After hours on the forum and reading many, many reviews on various types of hardware, I ordered a Joye 510 device and a complete starter kit which included several batteries, 2 atomizers, a pack of empty cartridges, charger, a USB thing, an e-cigarette holder which also charges the battery as well as some other stuff. My decision to go with the 510 was based on many people saying "I wish I had ordered a 510 before I wasted money on other X device". I get the impression it is a good entry-level introduction to e-smoking.
From another company I ordered my e-juice – two kinds. One propylene glycol (PG) based juice and a newer vegetable glycerin (VG) based juice. Each kind contains a mid-level amount of nicotine. I decided on trying both the PG and VG based liquids just to try them out. Both are tobacco flavoured. I'm sure they won't taste quite like tobacco but this is a good place to start.
So that is where I am so far.
I ordered the products from the following companies.
www.electronic-cigz.com – This is the company I ordered the liquid from. So far they have been friendly and helpful.
www.happyvaper.com – The company I ordered the Happy 510 Kit and Kaboodle Starter Kit. As well, this company has been great to deal with so far.
As e-cigarettes are still pretty cutting edge, I decided to document my experience. In the following weeks I'll make new entries giving my first impressions, how the device holds up to general use, and anything else I can think to comment on. I might even make a video or two. How about one of me taking my first e-smoke? That might be fun.