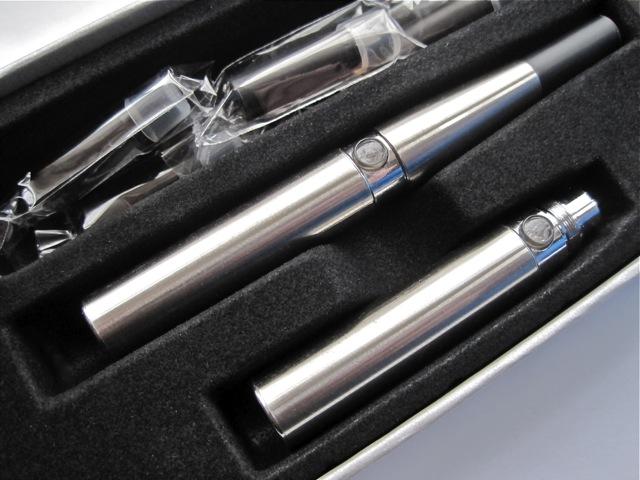 Two weeks ago I set down traditional cigarettes in favour of the fancy new, 21st century, electronic version. Now I'm heading into week three and I must say I don't miss my Dunhill cigarettes one bit.
So, how do I feel at the start of week three? I am starting to notice a few things. My lungs actually do feel a bit clearer today. The slight yellow tint on my index/middle fingers has faded. I can smell regular cigarette smoke – which I always could but when you don't smoke it has a different smell than when you do smoke. I'm also enjoying not having to stand around outside.
I have noticed one possible side effect of using e-cigs – dry mouth in the morning. Now, this could just be related to allergy season kicking in and me being a little stuffy. At some point in my sleep I must start breathing through my mouth and that could be drying it out. We'll see how this goes over the next few weeks.
Overall I'm pleased with the changeover.
I received new juice flavours last week so I've been having fun mixing and blending. After a bit of trial and error I'm currently enjoying a blend of PG "classic tobacco", VG "tobacco", PG RY4, and PG peppermint – all mixed in equal parts. I've mixed up several batches and this is what I'm using today.
The RY4 flavour is a bit of a mystery. From what I can tell this blend was developed by Ruyan – the original e-cig developer. This flavour being copied by just about everyone. Some say it tastes like tobacco with a hint of caramel. I've seen it listed as a Juicy-Fruit flavour. One recipe I found for it included tobacco, caramel, and marshmallow flavours. Everyone seems to think it tastes like something different, and I think because of everyone attempting to copy it, it does. The bottle I received tastes a bit like smokey caramel. The prefilled cartridges I received from Happy Vaper taste almost like cotton candy. Hmmmm? Weird. In any case, it seems to be a fairly popular flavour and I recommend it to people just getting started. Try it and see what it tastes like to you.
Speaking of flavours, Happy Vaper has 100's of base flavours you can order and make your own mixes. They have everything to mint, tobacco, pear, butter, lemon, and various meat flavours. Yes, meat. I even saw asparagus.
Personally, I don't think sitting around vaping roast beef and asparagus sounds very appealing. To each their own.
Some of the pre-mixed liquid I ordered last week contain too much nicotine for my taste.  They say they contain about the same levels as the liquid I originally started with (between 16-24 mg) but for some reason these just seem stronger. The liquid of the stronger fluid seems a tad thinner in viscosity so perhaps this has something to do with it? More liquid is getting to the vapourizer perhaps? I'm not quite sure. Cutting it with a 50% mix of another fluid seems to do the trick. Today I received some unflavoured/non-nicotine PG and VG fluid. I'm going to experiment with cutting the stronger fluid down and seeing how that works.
And speaking of mixing and flavours – I ordered a bunch of straight flavours today to play with. I ordered peppermint, clove, maple, hazelnut, vanilla, caramel, chocolate and a couple of tobacco flavours. That should keep me occupied in my little mad scientist lab for a bit. If I come up with any super cool mixes I'll be sure to post them.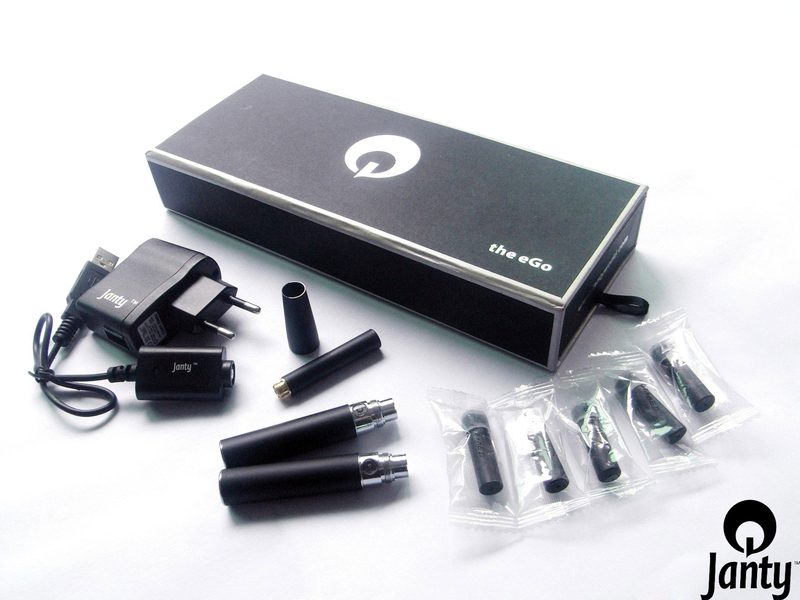 In my last entry I said I ordered a new device. It arrived today and I'm enjoying right now. The device I ordered was the Janty eGo starter kit. The eGo is basically a suped-up Joye 510. It uses the same atomizers and mouth pieces but the battery is a slight larger and it has a cone piece that fits over the atomizer.The starter kit contained two batteries, one standard 510 atomizer, one of the cones, 5 pre-filled cartridges, and a USB charger. I ordered the stainless steel version.
The device itself seems fairly rugged. It really isn't that much larger than the standard 510 battery. It is a bit thicker around and a touch longer. The standard 510 is about 9mm thick and the eGo is about 13mm. Ideally the battery on this bugger is supposed to last me all day. The standard 510 uses a 3.7 volt, 180 mAh battery. The eGo uses a 3.7 volt, 650 mAh battery. I've found with my normal use the standard 510 battery lasts around two hours before I need to recharge. Let's see how long the eGo lasts.
I also ordered a low resistance atomizer.
Low resistance (LR) atomizers is the thing all the vapour-people are talking about right now. It is supposed to burn a bit hotter and produce more vapour. Apparently you are NOT to use these on standard 510 batteries (High drain or something. Some talk about killing the batteries. I'm not quite sure.) The down side to the LR atomizers is I hear they burn out faster. The costs of the LR 510 atomizers are the same as traditional 510's so I thought I'd give them a go.
I charged both of my new eGo batteries, put a new standard atomizer on one and the new FR atomizer on the other. I primed both new atomizers with a couple drops of RY4 and I popped on two new pre-filled RY4 cartridges. I used them side by side for about 30  minutes.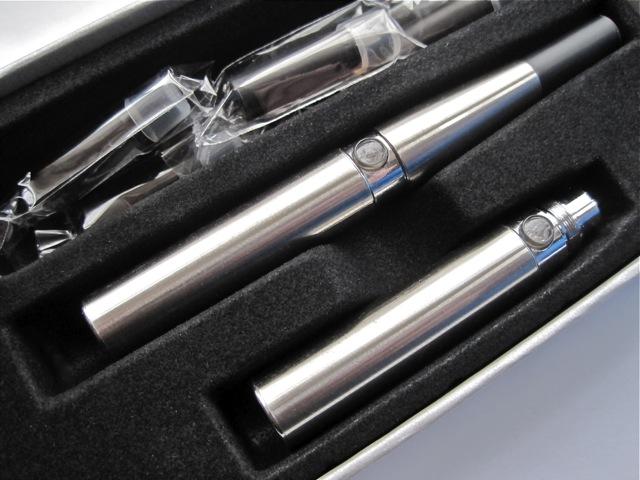 At first use, I'm not noticing anything different. They seem to both be providing the same amount of vapour. Hmmm? Curious. I'll keep playing with this and see if I notice anything different over time. Right now, I'm not impressed.
To change the subject: Here is something I've learned in my e-cig use I thought I'd share.
When you first fill a cartridge it provides more vapour in the first drags. There is lots of fluid, it gets down to the burner, and works great. When the cartridge gets down to about 50% empty the fluid doesn't flow as well and you end up with lame drags. I hear people saying they carry a bottle of fluid with them and keep topping up the cartridges. That just seems like too much of a hassle and a bit messy for me.
What I've been doing is filling about 8-10 cartridges up and placing them in a box which I carry with me. When my current cartridge starts to not produce as much vapour I just swap it out with a fresh one. Quick. Easy. No muss. No fuss. At night I mix my liquid and refill all the cartridges.
The only thing I need to make this easier is a some sort of cartridge carrying container with two compartments – one for full and one for used.